IEC 61869-2 provides the accuracy of 0.2S and 0.5S CTs that are applied to class 0.2S and 0.5S meters according to IEC 62053-22.
ANSI C12.1-2014 and ANSI C12.20-2015 are standards that are applied to class 0.2 accuracy meters for evaluating the accuracy of energy meters.
These standards apply to class 0.2 and class 0.6 accuracy CTs according to IEEE/ANSI C57.13-2008.
Very low phase angle error is essential for accurate power and energy measurements.
This is a critical factor in ensuring the performance of current sensors and energy meters.
UL 2808 Listed meets the 2017 NEC Code requirements for field-installed CTs.
Safety certification: 3rd Edition of UL/EN/CSA 61010-1
Approval: CE Mark, RoHS 3
This means that it meets the requirements related to the safety of field-installed current transformers.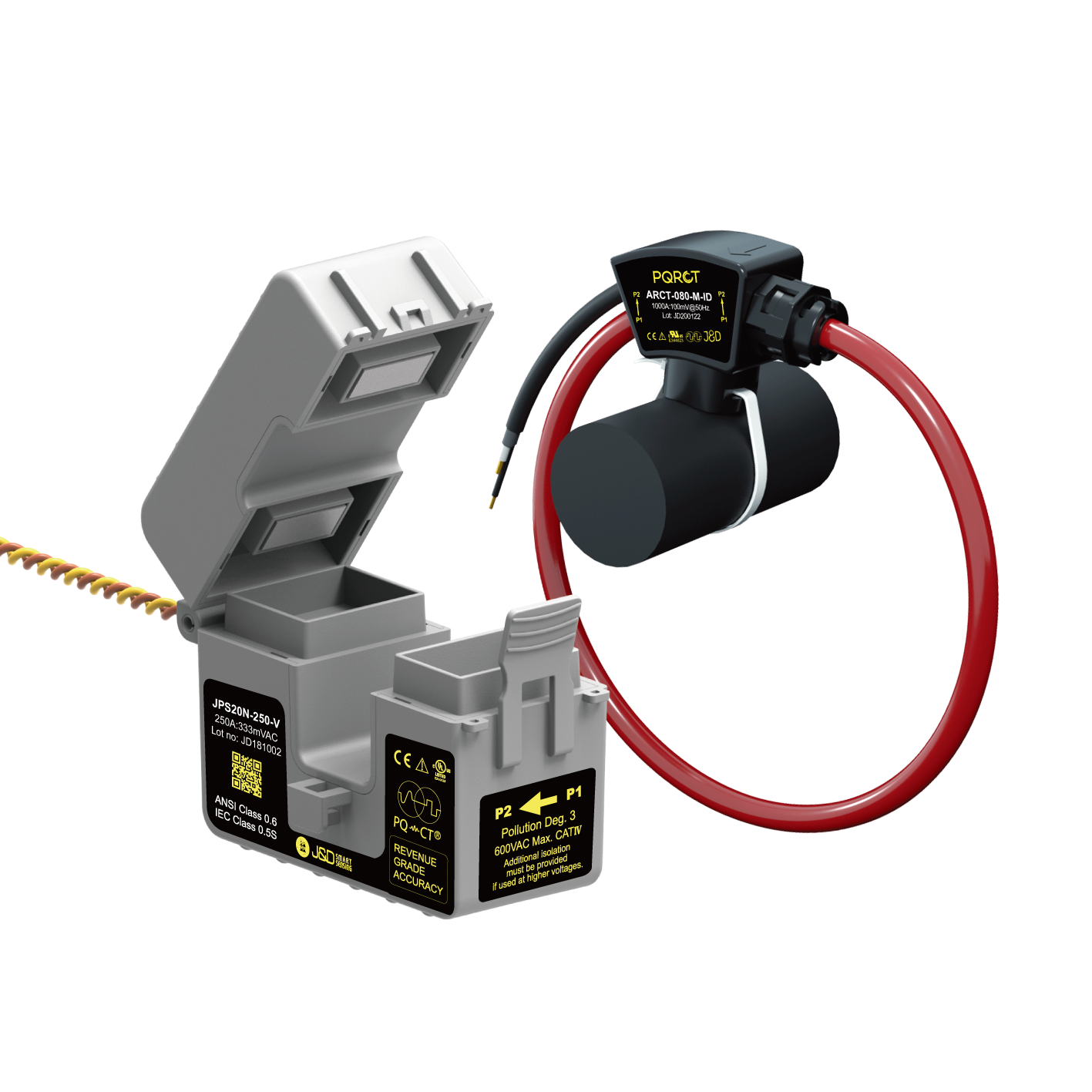 J&D offers a comprehensive range of current transformers (CTs) designed for a variety of applications including indoor and outdoor use in 50Hz or 60Hz service up to 1000Vac.
Our selection includes revenue grade split core CTs ideal for tenant billing, solid core CTs for industrial and commercial smart meters, DC immunity CTs for precise measurement of AC and DC components, and split core CTs for outdoor distribution line monitoring.
The revenue grade CT boasts a linearity of 0.1% and complies with international accuracy standards such as IEC61869-2 and IEEE C57.13. J&D's high-precision metering CTs are widely used in power quality meters and smart energy meters from major electric meter manufacturers.
Flexible Rogowski coil sensors are used in power meters, energy submeters, condition monitoring, power quality monitoring, distributed measurement systems, and electrical devices that measure alternating current (AC) up to thousands of amperes for current spike detection.
Our DC tolerant CTs accurately measure both AC and DC components, making them ideal for applications such as power quality monitoring and current spike detection.
The output signal of the Revenue grade split-core current transformers is 333mV or 100mA and shows stable characteristics in phase difference and ratio error even with 0.2S and 0.5S accuracy according to IEC 61869-2 and 63rd harmonic.
For outdoor applications, J&D offers split core CTs with 1A or 5A secondary output and IP67 protection rating, accuracy of 0.5S. J&D offers a wide range of CTs designed for a variety of applications with an emphasis on accuracy, precision and robust design.